We had an NTP outing to Mydenahalli...
adarshraju
,
anjali_ar
, Geeta, Prasanna, and I....and we got to see several BLACKBUCK, a couple of FOXES, and several birds.....we got home very, very late and I was downloading the pictures from my 20D into my laptop when the power went...and along with it, the pictures on my 20D CF card, too. I had got nice shots of the BUSHLARKS, especially, and the backs of the blackbucks....feeling rather bad for their loss. Didn't even get to see some of the pics properly...
I have to finish packing, and leave for Thattekad by the early morning train....oh, well, these things happen, let me see what I have on the S3....
Imagine, instead of seeing the blackbuck photos which I went so far to get, you will have to see this GRASSHOPPER, beautifully camouflaged in the grass!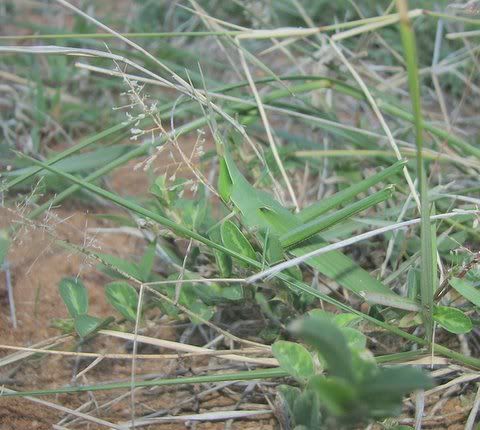 I have never lost photographs to limbo before, and I hope it will not happen again.
G'night, all, will be back on Thursday...