I do love the art of "kOlam"....it's called "rangOli" in the north, but is executed very differently, and the designs are very different, too.
In south India, we have two ways of making kOlams; the wet (izhai kOlam) and dry (podi kOlam). I am reasonably good at both, but watched someone making the second type at a wedding, and thought I would document that.
Some kOlams are very simple, yet neat and geometrical; they speak of a few minutes devoted to the art as the housewife (or the maid!) has a lot of other work to attend to...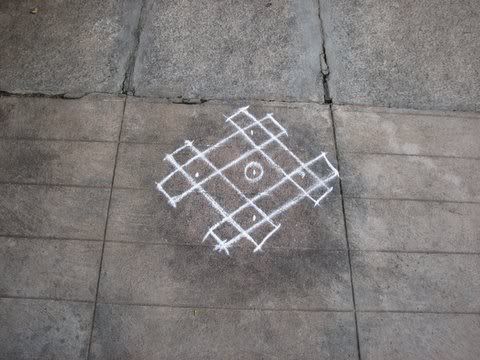 (
Collapse
)
I do love decorating the front of my home to welcome visitors...there is also the superstition that the rice powder or paste will be eaten by small creatures such as ants and give them sustenance....
It's still an art that's vibrantly alive in our cities and villages! In the month of "mArgazhi" (mid Dec to mid Jan), women vie with one another to produce large, intricate kOlams, and competitions are held, too....