Our trip to Bandipur/Masinagudi happened quite suddenly, with Avinash calling me up on Wednesday afternoon, asking if I wanted to go the next day. He had a compensatory off, he said, and a young friend of his, Rachana Patwardhan, was also keen on going on a field trip.
I knew that KM was having dinner at some meeting, so I cheerfully ditched him for lunch as well, and went off with Avi and Rachana.
I will start with one of the best sightings we got that day.
The Bandipur/Mudumalai ranges are home to (at least) two single-tusked male elephants; one, dubbed "Onti Kombu" ("single-tusk" in Kannada) by the locals, has only the left tusk.
Chirdeep, who took the JLRNTP with me, and worked as a volunteer naturalist in Bandipur JLR for two months, took this picture of Onti Kombu:
http://indianaturewatch.net/displayimage.php?id=53973
But we were fortunate, that day, to see the right-tusk tusker! I dubbed him "Kombu Onti" as he is the mirror image of Onti Kombu.
The guy wasn't far from the road, and we were very,very VERY quiet...but though the reputation of both these elephants is fearsome--they are both supposed to have killed people-- he wasn't aggressive at all, and calmly went on his way while we had our hearts in our mouths!
I also feel that perhaps the deaths were all because tourists did things as foolish as getting down from their cars too close to the animals, trying to taunt them, or something provoking like that....but in any case, we were not the object of an elephant charge that day!
(
Collapse
)
Here's a closing shot of the SUNFLOWER fields of Bandipur, smiling in the sunshine, framed by the huge banyan trees that are being steadily chopped down to widen the road; I thought the money would be better spent making the road better, it is full of dreadful potholes!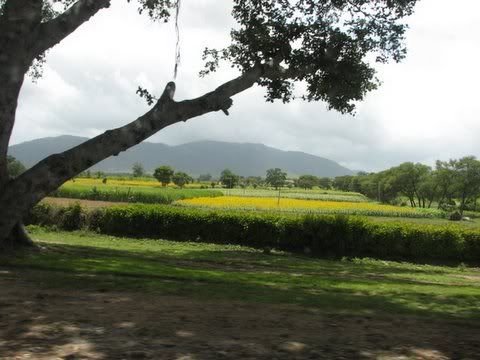 A lovely day; since three of us had Canons (Ashwin and I had 20 D's with the 300 mm lenses, Ashwin had the 1.4 teleconverter as well), and Rachana and I had Canon Powershots (she had the S5 and I had the S3), we all ragged Avi solidly for being the lone Nikonite!
Thank you, Avinash, for a great trip!