When the Mysore members of INW thought about having a meet, some of the Bangalore gang decided we would join in....
So (in alphabetical order) Anush, Mahesh, KM, Sharath, and I set off on Saturday morning. Two people who could not join us in our car, were
shivakumar_l
and
sainath
; the latter arrived directly at the venue, Rangayana (which I had seen before when I went as part of the crew of the Golden Chariot).
Here's the lovely icon at the gate of Rangayana:
(
Collapse
)
Here's the GP (Group Photo) which I gave someone my MLC to take....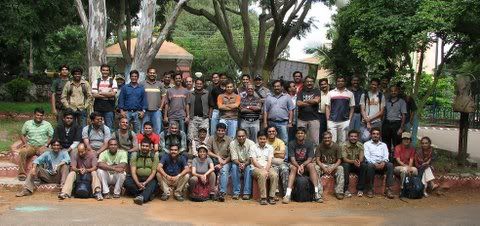 Great job by the Mysore INW group....Thank you for a memorable weekend!