I don't have the tech ability to do a screenshot, but this "Why Is Your Stomach Fat?" ad has been a fixture on my LJ when I open it, for the past several weeks. It's as if LJ has this X-ray eye that looks right at my bulgy paunch as I sit in front of my laptop....so can anyone tell me why this ad should have such staying power on my LJ, and do all my readers also see the same ad when *they* open my LJ?
I wanted to document this thoughtfulness on the part of those who administer the Mini Forest near my home...but personally, if I needed that seat, I would be dead in a ditch before I took it, and sat there looking aged or disabled!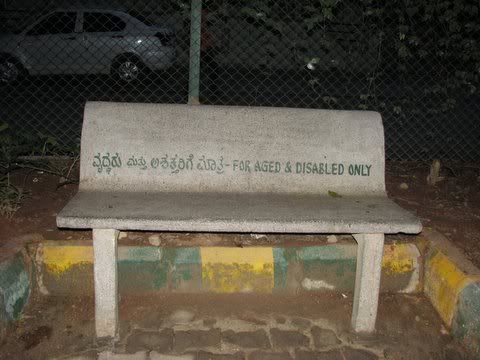 And...what is "aged" and "disabled"? A deaf person who sat on that seat would probably draw a lot of censorious looks, and a 60-year-old might have to give up the seat to a 80-year-old....!
People's good intentions need to be tempered by some imagination....