I had been to a "Parichay" ("introduction", or "getting to know") walk organized by INTACH, Bangalore...this was at Russell Market, in the Ulsoor area.
I will be writing an account of it for Citizen Matters,and if they make the article too short, I will post a detailed account with lots of pictures here...but when, I don't know, because I am off for two weeks in a little while, and no internet, possibly even mobile, access....
Anyway, while we were waiting for the walk to start, this caught my eye: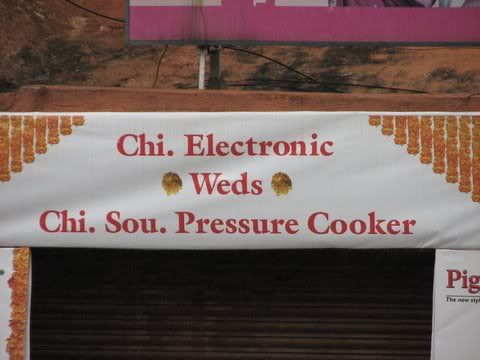 Like the Samsung tagline...Everyone's Invited!
For the non-Indians: "chi." is a shortening of Chiranjeevi (immortal) (it's also the formal form of addressing a not-yet-grown-up-and=become-a-household young man) and "Sou" is short for "Sowbhagyavathi" or "Fortunate one"...in this instance , the "chiranjeevi" has been tacked on to the girl's name too.
I do love going around my city; there's *always* something nice to see!
*