Went off to the flag off of the
TFN cyclng event
, and then to Lalbagh...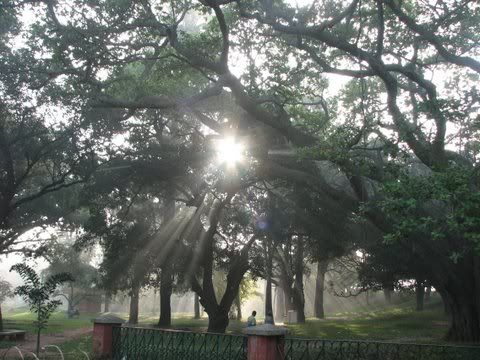 The light was just magical, and the sun through the foliage reminded me that today there was also a Son born into the world! The light also reminded me of the Star of Bethelehem....
The rest of the post is
here
We saw a Kestrel, a Spotted Owlet, and here's another view of the spectacular Asian Paradise Flycatcher....
I did regret not having the 20D, but made do with the MLC, the S3. and indeed, it was better, because I took a video of the bird whisking itself about in the tree:
Merry Christmas, every one! I may not be, strictly, a "Christian", but I love to think of a divine Child being born, who will save mankind...surely, our children are our immortality and our hope. With a granddaughter on her way into our lives, I feel more intensely the joy that a new birth brings....
*