http://bangalore.citizenmatters.in/blogs/show_entry/796-a-big
Instead of spouting rhetoric at their students, this school has taught by example!
And an interesting thing that happened to us today...
http://bangalore.citizenmatters.in/blogs/show_entry/795-spreading-the
Please read my writeup about the Heritage Walk today when it appears on Citizen Matters in a day or two..then I will put up added photographs here, too. The walk was organized by INTACH in the Avenue Road area, and for the first time, the shopkeepers and residents of the area engaged actively with the walkers!
Here are some "Oriental lilies" I got for KM....there's a new young Bengali florist close to my home, and the heady scent of the lovely lilies is wonderful...and the lilies smile across the room at the little Gerbera shining suns that are very dear to me....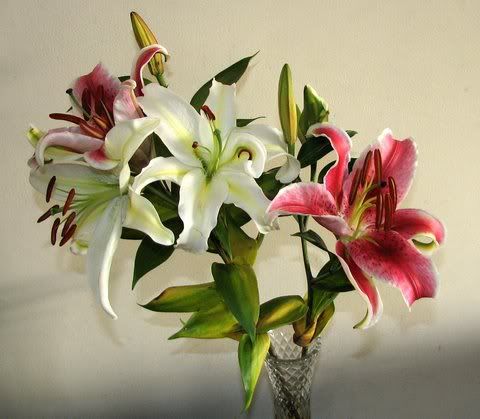 Went for our monthly quiz, had a gala time in the evening, too.
Life..is full, and good....long may it last! Hope all of you had weekends as enjoyable.