Well, though I am always lucky with tiger and leopard sightings, there are enough people who are not as lucky, that I should devote a post to this graceful, sleek beauty.
On the morning of the 21st, it was quite cloudy and overcast, but we set off on the safari with eager expectation. With
Karthik
having taught me that there is far more to the jungle than the "big cats"...and also because I have never yet sighted a tiger in southern India...I go prepared to enjoy whatever I see and learn from whatever I can observe. But still, it was nice to get a good sighting of the leopard in the branches of a tree, on this misty morning...
At first, he (it was a male who'd had a good meal!) was looking away: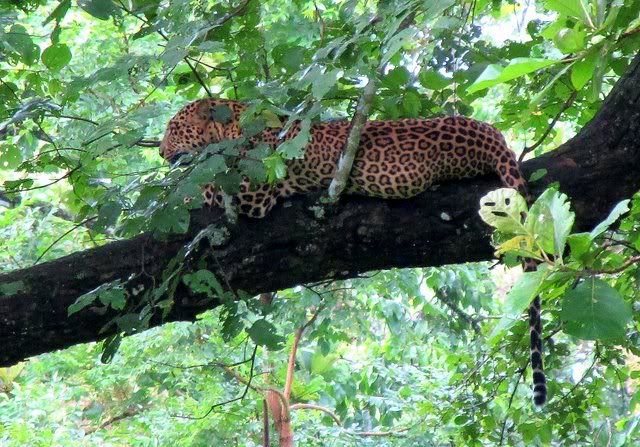 Then, he decided to look at us, with that lazy, unconcerned stare:
Then he decided to leave!
As you can see from the video, there wasn't any action...just us looking at the beautiful animal!
And as he moves off, you can see how one second, he's there, and the next, he just...isn't! (Two more jeeps came up behind us, and there was just nothing to see.)