I've only stayed on a houseboat in Kashmir before, so I was looking forward to our stay on one in Kerala. Overall, though, the experience was not as delightful as it should have been; the main factors being the somewhat tacky houseboat we had, and the high cost of the rental. Apparently the owner of the houseboat said that we'd have to take the entire houseboat (it was a two-bedroom one) and KM agreed (I wouldn't have!) But the second room was not even cleaned...and our room was small, cramped, and the little cockroach I saw scuttling along didn't come under the heading of wildlife!
However, moving along smoothly on the backwaters was really a nice experience, and certainly, with the houseboat, we were able to see a lot more of the practice sessions for the Chundan and Iruttukuthi boats than we would have from the shore.
Houseboats look quite fancy...here's an unused one, with the typical "curly" wood-railings of Kerala: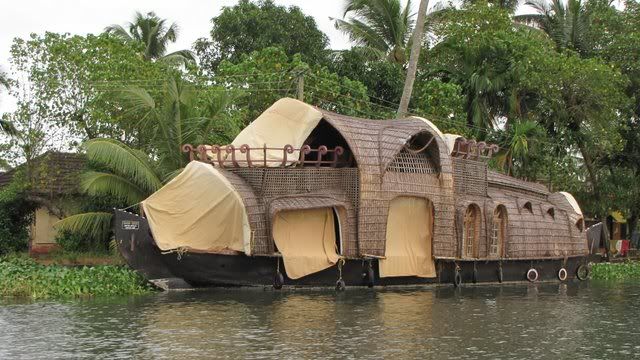 (
Collapse
)
Many more scenes that I saw are on the Picasa Web Album if you
click here
Let me close with the green of the paddy fields...I loved those "head-only" umbrellas that the people are wearing....but realized I'd never really use one!