KTB's daycare,
Urban Sprouts
is a happy place which she's very happy to spend her weekdays at. Over the past year (I think she started going in July 2010) and a half, she's found a very close friend, Noah (I still don't know his last name!)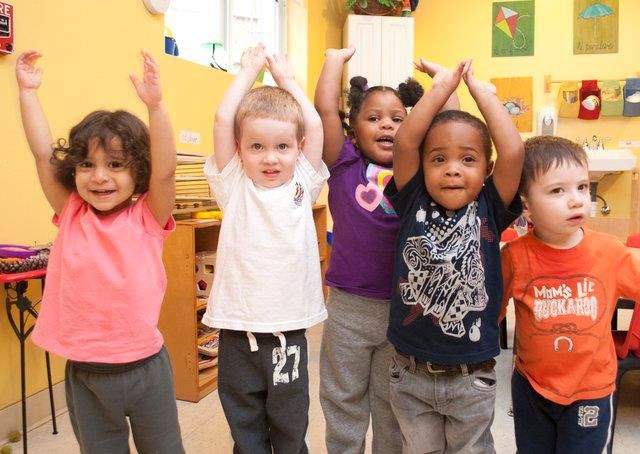 Noah is the little boy in the black tee with a white design on it. Everyone in Urban Sprouts describes him as an "old soul"...it's as if, they say, there's a mature person inside that small body!
When I was there, I used to drop her mother off at the nearest Metro station in the morning, and then take KTB to Urban Sprouts, often spending a little time there as well. (Families are welcome to spend time at the centre.)
KTB would walk into the room five or six of them share, and before having her breakfast, she'd yell, "NO-VAAH! NO-VAAH!", in as dictatorial tone as I've ever heard! Noah would come over (he'd often have waited to have breakfast, too!) A big hug, and then both of them would wash their hands and settle down at the small table, and have breakfast together, in great harmony!
Noah has continued to be her friend right through, and often figures in her conversation at home, too. In the photo above, their hands are up...but when it comes to spending time with someone at Urban Sprouts, Noah wins....hands down!
AM took, and sent, the photos...
I am waiting for some pics from DnAnK's Thankgiving weekend at Maine (of creatures other than the Bald Eagle!)...and some more KTB pics will follow, hopefully...
I know, rationally, that she's happy and busy and has a great life where she lives...but emotionally, I do miss her...sometimes less, and more often, a lot. Let's see how long I can last without going to visit her!