Here's my account of the Clean and Green presentation for WIPRO (does anyone remember that they were once Western India vegetable PROducts, and once sold vanaspati?)...

"The very nature of voluntary work is
that it has to be...voluntary, so sometimes, finding the time and the
effort become difficult or even impossible....so even being a part of
the egroup and trying to help out occasionally is fine! (This is the
kind of reasoning *I* shelter under, for all the voluntary work I do!
:D )

Today, Anush and I went to Wipro, at one of the their campuses at
Electronics City. Alas, the Wipro shuttle bus that was supposed to
pick us up at Silk Board junction sped off without stopping, but we
got into a nice Volvo bus and phoned back and forth, and prevented
Sandhya, our contact person at Wipro, from having a proper lunch, poor
thing!

Wipro has something like 20,000 employees at the Electronics City area
alone, apparently...but no, not all of them turned up for the
presentation :) There were about 40 or 45 people, though, which I
think was the right number! I went through the slides of the
presentation, and talked about what we are doing and how we are trying
to do it.

I was really happy that there was a lot of questions and interaction
from many members in the group after I finished speaking...and I found
that many of the members of the audience were brimming with ideas, not
only to partner with Clean and Green, but also about trying to make a
difference in small ways on their campus itself. One gentleman, Mr
Bharat Padiyar, had, indeed, come prepared with some pads that he had
made out of the one-side used paper that was not collected from just
one building on the campus! There was a group of people which
included Rohinik Sawant, and Akshit Jhaveri, who are already doing a
fair bit on trying to improve the communication skills of various
lower-level staff on the campus. Another young man, Ankit Khaitan,
spent a little time with us after the presentation, and said that he
didn't ask all the questions he wanted to. I was very happy to see
that we were addressing individuals who are already pretty socially
aware.

Sandhya had, with short notice, done a good job of mobilizing so many
people to come and attend, and indeed, a larger gathering than this
would have been more difficult to manage.

I am very thankful to Anush for being with me throughout...when my
screen blacked out and I didn't know what to do, he helped me out! I
was in such a hurry to make sure we didn't miss the Wipro shuttle that
I prevented him from having any lunch too...I think it was Lunch
Prevention Record Day for me!

We can now take this forward with Sandhya, and work out the modalities
of the first cleanup with Wipro as our partners. I feel confident that
we will have a good turnout. I pitched the cleanup as a kind of family
outing, where, instead of just having a good time, the volunteers
would be doing their bit.

I took a few pics, and they are:

http://s297.photobucket.com/albums/mm205/depontis/?action=view&current=IMG_2384.jpg

http://s297.photobucket.com/albums/mm205/depontis/?action=view&current=IMG_2386.jpg

http://s297.photobucket.com/albums/mm205/depontis/?action=view&current=IMG_2383.jpg

Alas, I couldn't take a pic of myself giving the presentation, but
perhaps that is just as well!

And I got a good laugh when someone asked, "Can we bring our spouses to the clean-up?" and I said, "only one per person allowed"....yes, stale, but it got a laugh..!

But as we were waiting at the Electronics City Main Gate for Sandhya
to come and pick us up, I took this not-too heartening picture of the
surroundings....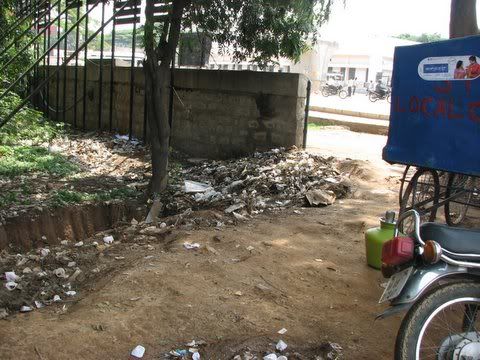 So..I am looking forward to the next meeting and the next cleanup, this time
with Wipro.