Having gone for my friend's "100th birthday" in Hyderabad ...well, he is my father's friend and engineering college classmate (Benaras Hindu University in the early 1940's...but today he is as much my friend and KM's, because he likes his peg of whiskey, can walk any of us into the ground with his 10 to 15 km walks...and he jokes about anyone and anything, fearlessly..."even life imprisonment or a death sentence doesn't mean much to me now!" he quips, beaming at 87!)

Yes, of course, there will be a post on this! How many such celebrations is one privileged to attend? Not many...

We were, I think, the only non-relatives who arrived a day earlier, so we spent a lot of time with the family; hence there was no opportunity for birding at all. But the gated community where the elder son lives is green and beautiful, and another friend whom we visited in Banjara Hills lives in an apartment where the lawn has some lovely trees...

At Gunrock Enclave, I took this snap of the FEMALE PURPLE-RUMPED SUNBIRD: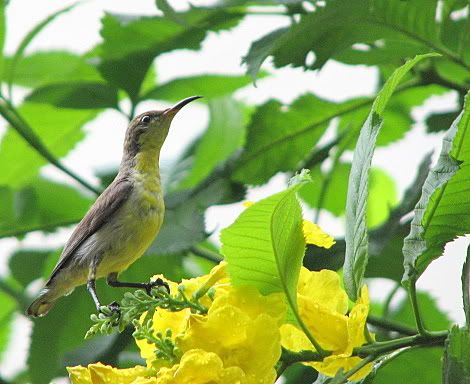 And at Stone Valley, the MALE: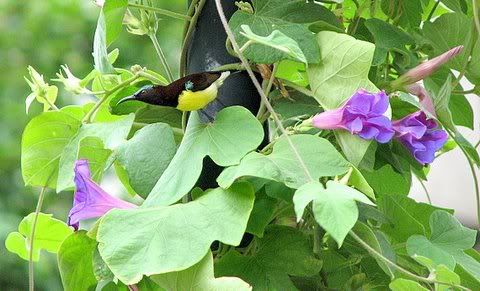 Those are with the MLC, and I did miss having the 20D...but I made do!


I *did* see a SHIKRA in the air above the Chiraan Fort , a beautiful, if rather scrappily maintained, heritage building where the actual celebration was held, and saw several PIED WAGTAILS on the lawns of the Secunderabad Club , but that...was about it!


ashbirder, I really missed meeting you..but a two-day visit with so much to do and several other friends to visit didn't leave me any time at all..you will understand if I say that we had to visit one friend in Tolli Chowk (I think that's how it's spelt) and then another in Dilsukh Nagar, then a third in Banjara Hills and another whom we could not visit at all, because we had to come home, pack and leave for the Kachiguda station ....