Our trip to Bandipur/Masinagudi happened quite suddenly, with Avinash calling me up on Wednesday afternoon, asking if I wanted to go the next day. He had a compensatory off, he said, and a young friend of his, Rachana Patwardhan, was also keen on going on a field trip.

I knew that KM was having dinner at some meeting, so I cheerfully ditched him for lunch as well, and went off with Avi and Rachana.

I will start with one of the best sightings we got that day.

The Bandipur/Mudumalai ranges are home to (at least) two single-tusked male elephants; one, dubbed "Onti Kombu" ("single-tusk" in Kannada) by the locals, has only the left tusk.

Chirdeep, who took the JLRNTP with me, and worked as a volunteer naturalist in Bandipur JLR for two months, took this picture of Onti Kombu:


http://indianaturewatch.net/displayimage.php?id=53973

But we were fortunate, that day, to see the right-tusk tusker! I dubbed him "Kombu Onti" as he is the mirror image of Onti Kombu.







The guy wasn't far from the road, and we were very,very VERY quiet...but though the reputation of both these elephants is fearsome--they are both supposed to have killed people-- he wasn't aggressive at all, and calmly went on his way while we had our hearts in our mouths!

I also feel that perhaps the deaths were all because tourists did things as foolish as getting down from their cars too close to the animals, trying to taunt them, or something provoking like that....but in any case, we were not the object of an elephant charge that day!



Some of the other MAMMALS we saw were:



Lots and lots of SPOTTED DEER or CHITAL. Here's a Chital and fawn, with their usual alert looks:






Another one decided to have a profile study: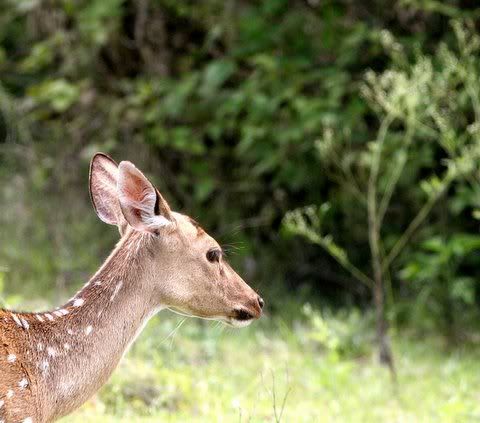 (Yes, as soon as she sends me her email id, I will post it to her.)

Several GAUR were around, in herds; here's one handome guy: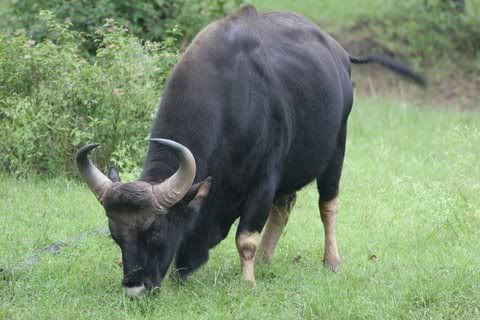 LANGUR were everywhere, and there was this group having fun on the road: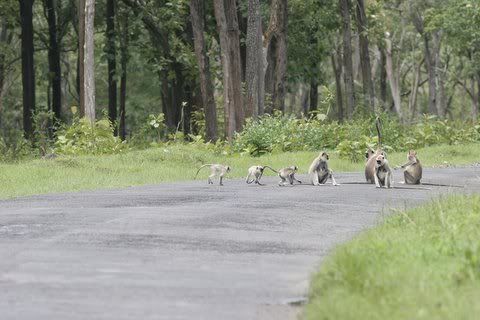 Alas, too many motorists feed them all sorts of junk, not realizing that this not a good thing.


We also came across several ELEPHANTS; this emaciated female intrigued us a lot: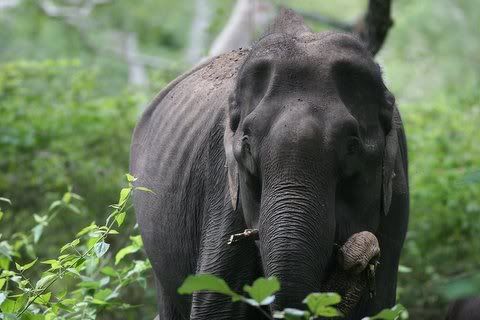 Her ribs stood out, and her face was gaunt, but she was still beautiful: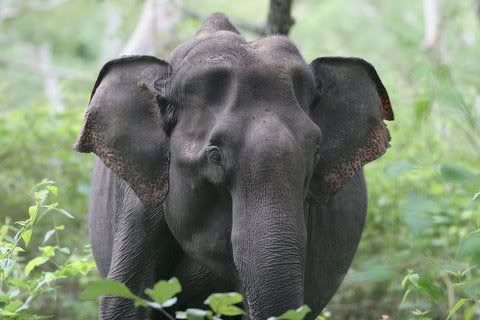 And see the realism of the elephant that Sunni Dhairyam has painted in one of the rooms at the Bandipur JLR property: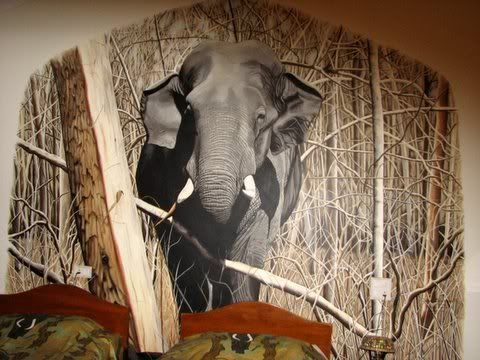 And it was amazing to see the video of an elephant having climbed up the stairs and standing on the terrace of a building at Wildhaven Resort, Masinagudi where we went to meet Mr John:






We also saw SAMBHAR, and I did manage a couple of shots though (following DM's Jungle Laws) they were in a difficult position for me to photograph in the rain: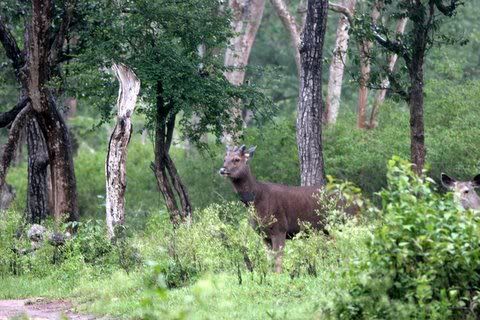 The female's looking at me: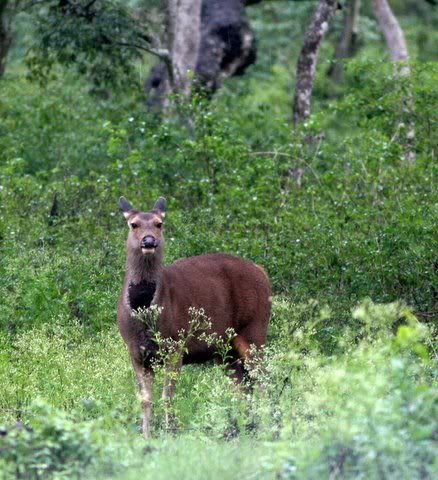 And at the end of the day, I took this flash shot (there was no other way to get them!) of the WILD BOAR, sheltering under the Forest Department jeeps at the Bandipur Forest Office!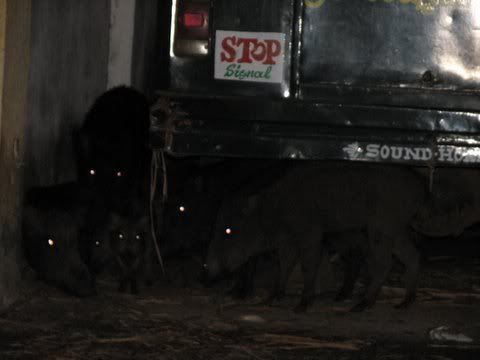 As for the BIRDS....

let me start with this shot of a PEACOCK in the rain: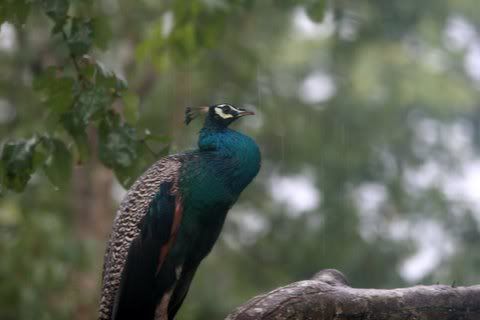 I was in absolutely the wrong part of the vehicle for this shot. It was pouring with rain, so I could not put my camera out of the window; the other side windows were already full of lenses. So I took this through the windshield as soon as the wipers had passed over it!

But I still like the rainy mood in the shot, much as the mood in this photograph of a SPOTTED DOVE that was huddling in the rain: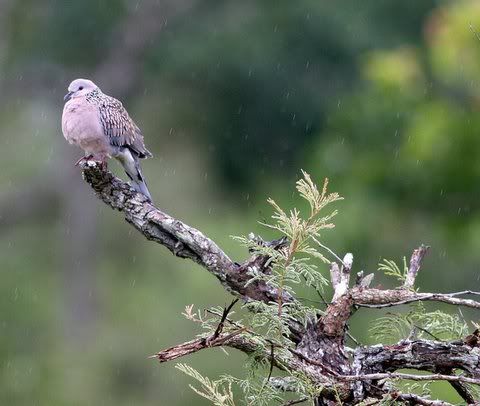 As we were on our way, past Mysore, I looked up from the car to see a raptor that I could not identify, making large circles overhead, and being mobbed relentlessly by the crows: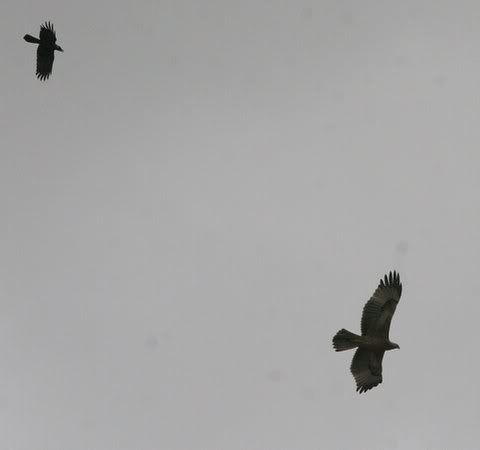 I later took my friend AMS-of-Delhi's help to id it as a JUVENILE BONELLI'S EAGLE... a first-timer for me!

Early on, we had stopped near a water body, so that I could show Rachana these BLACK-HEADED IBIS: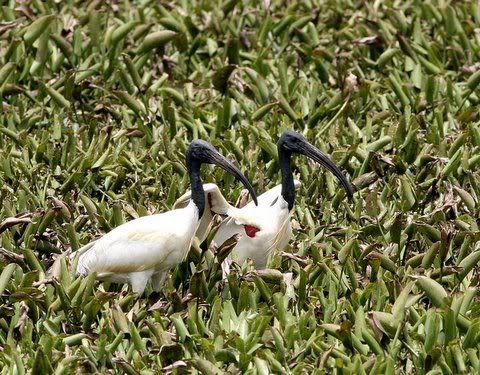 And I managed two quick shots, though they were rather far away, of these BRONZE-WINGED JACANAS: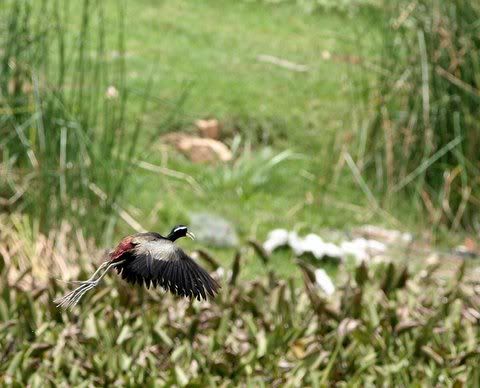 This photo shows that they are, indeed, bronze-winged! :)






As we were crossing the Bandipur area, we saw a welcome sight...some WHITE-RUMPED VULTURES soaring high in the sky!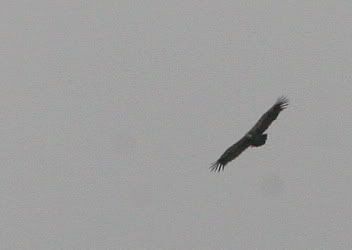 Ashwin said that he had never before seen vultures in this area, but Karthik tells me that it is not an uncommon sighting..though of course, all vulture sightings are important because of their alarmingly reduced numbers.

We also saw this BAY-BACKED SHRIKE at the Wildhaven Resort, Masinagudi: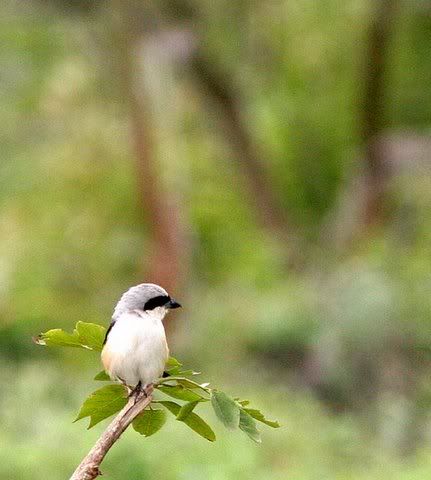 And at one point, it was lovely to see this CRESTED HAWK EAGLE on a tree, even though the light was poor and it was in the shade: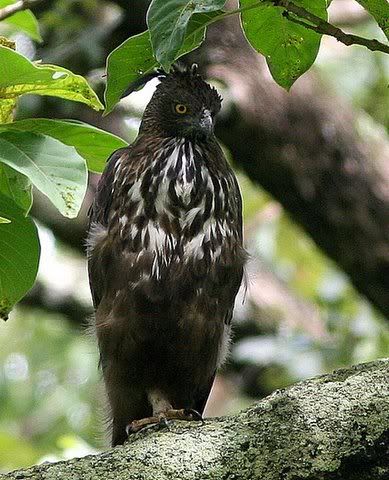 and, of course, several of these JUNGLE BABBLERS fluttering all over: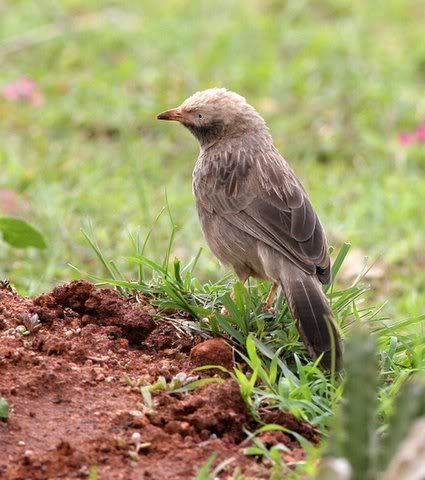 After many years, I was going beyond Karnataka to Tamil Nadu, to the Mudumalai area: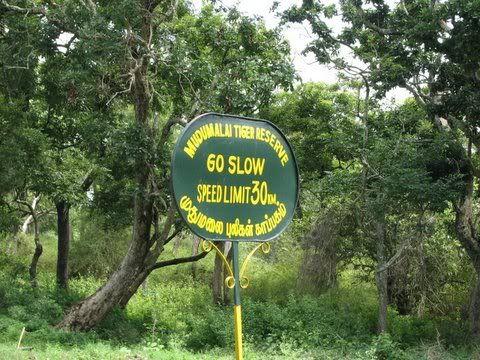 And the PEOPLE that day?


At the Wildhaven resort, Mr John and his people were very hospitable to us, and he told his theory of letting the jungle come back on its own, without active intervention that often has disastrous side-effects that people never foresee.

Here's...

Rachana: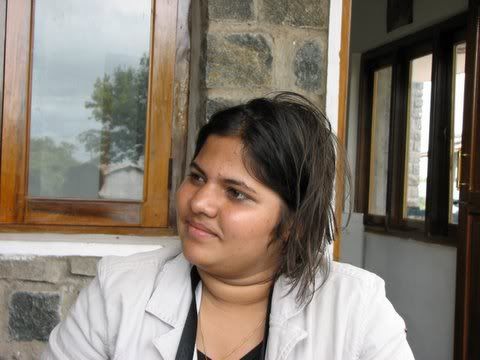 Avinash: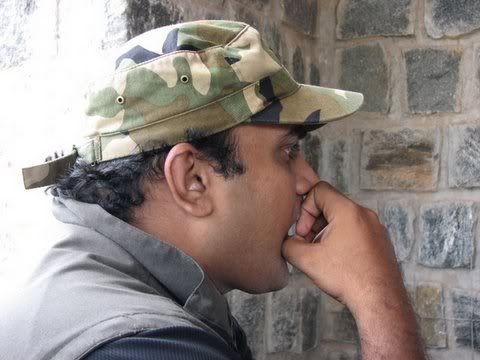 Ashwin:




Mr. John, talking about the problems of wildlife conservation:




Siddharth, who showed us the video:





And here are Lokesh, Basavanna, and other friends of the JLR property at Bandipur, whom we met up with on our way home: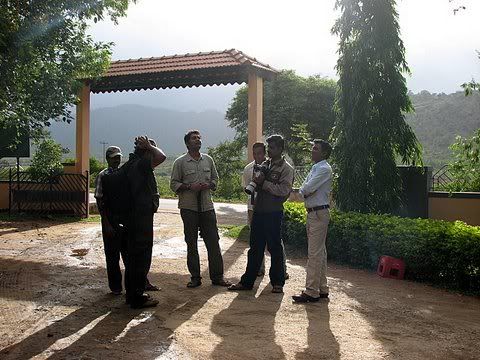 I didn't, however, forget some of the "small stuff"; here are some MUSHROOMS: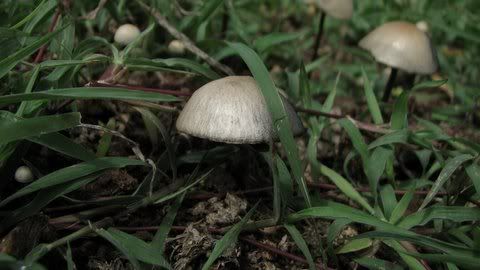 And here, at almost the end of the day, is a BEETLE that I took a macro shot of: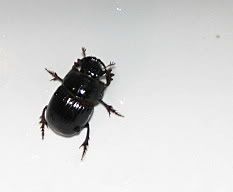 and this unid but lovely FRUIT (update, Sandeep and Madhusmita both say it is the Passion Fruit.)







Here's a closing shot of the SUNFLOWER fields of Bandipur, smiling in the sunshine, framed by the huge banyan trees that are being steadily chopped down to widen the road; I thought the money would be better spent making the road better, it is full of dreadful potholes!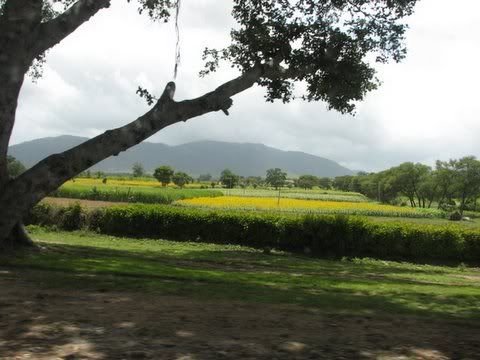 A lovely day; since three of us had Canons (Ashwin and I had 20 D's with the 300 mm lenses, Ashwin had the 1.4 teleconverter as well), and Rachana and I had Canon Powershots (she had the S5 and I had the S3), we all ragged Avi solidly for being the lone Nikonite!

Thank you, Avinash, for a great trip!