Whatever it is you are thinking.....






So, if your thoughts are nice ones, that's good, otherwise....! Spotted this witty message on an auto in Mysore, where KM and I had a lovely time (well, me more than KM who was rather tired after a very hard week) at the INW meet....today I will be posting pictures from the meet, including the baby croc that we saw at Karanji Lake..imagine, a crocodile in an urban lake!

Mysore is a beautiful city, thankfully spared the too-fast-too-soon development of Bangalore (the fact that the highway was under construction, and almost choked off access for a couple of years, helped.) Heritage buildings dot the town, it's green, the parks are incredibly beautiful....so...what do I think of Mysore? Here's the answer on a bus...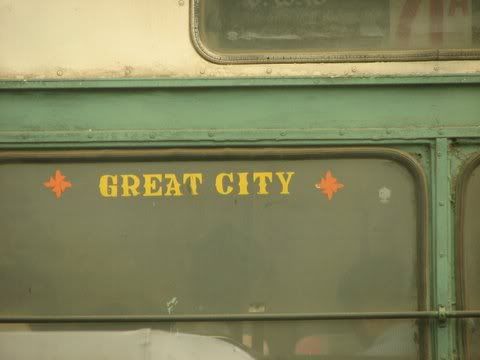 And why did I post nothing yesterday? I have a whole week's worth of root canal work to get done, and the first appointment was yesterday; the dentist just TOUCHED the base of the tooth, and my sinuses exploded in a rainbow burst of pain, which laid me low throughout the day. Yes, I am better today, thank you.... a lovely walk in the rain yesterday evening helped quite a bit, I am not kidding!