The past week had a fair amount of birding trips....one weekday morning sneak to Lalbagh, Saturday to Ramnagara, and Sunday to Ragihalli. I must thank:


anushsh
Ashwini Kumar Bhat
Avantika Dhar, a beautiful and delightful little girl
Bharat Patil (http://www.flickr.com/photos/bharatpatil/)
Geetanjali Dhar
Pratima Jayaram

sainath
Subir Dhar
Vijay Hegde

Who made it all so enjoyable.


First, there was the weekday morning I-just-thought-I-would sneak to Lalbagh .


We started with the old favourite, the PURPLE MOORHEN, always to be found padding along on the lotus and lily leaves on the lake: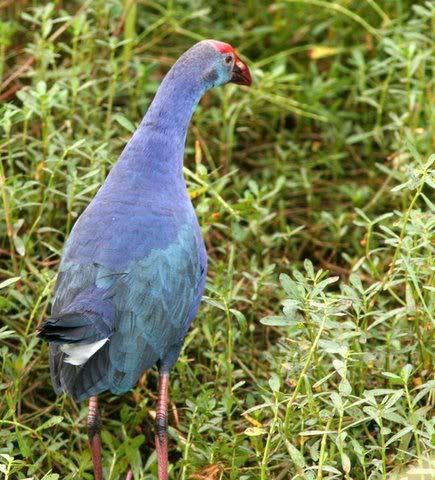 Then we went on to look at our friends the MOTTLED WOOD OWLS: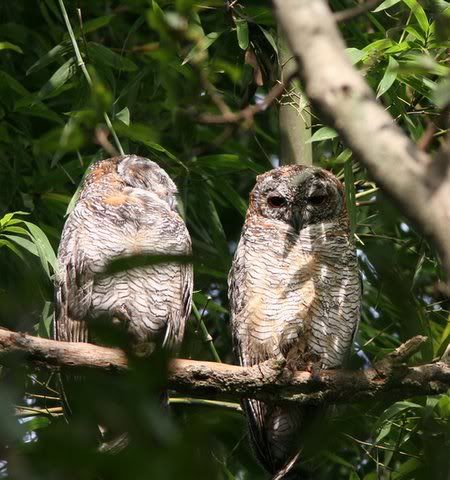 The SPOTTED OWLETS weren't there in Location 1, but they were little furry balls huddled together peacefully in Location 2: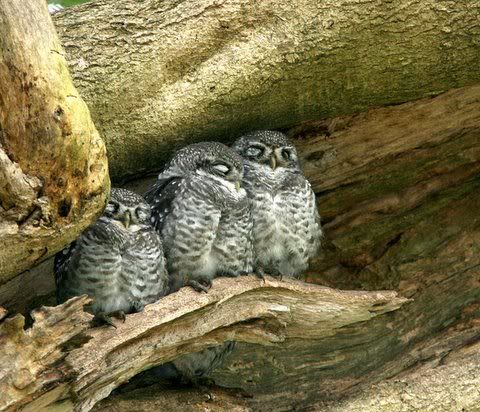 The ROSE-RINGED PARAKEETS were feeding off the seeds on the trees: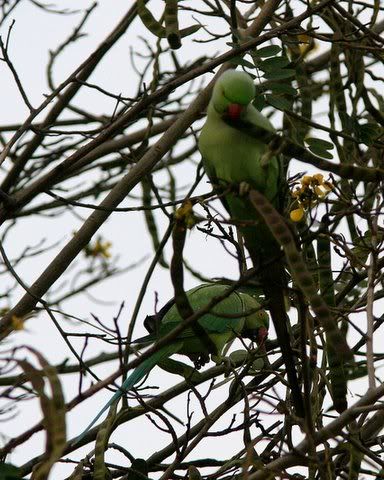 I didn't take too many photographs there as I didn't spend much time in Lalbagh; but two days later, I got to go to Ramnagara, and had a wonderful time...


Here are the others, avid birders as you can see....Anush,Sainath, and Ashwini: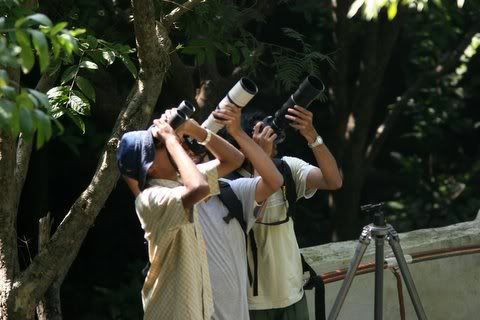 One of the lovely sightings we got was the WHITE-BELLIED DRONGO: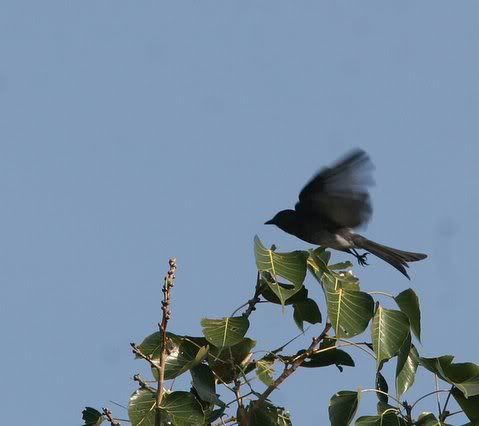 First it sat on one tree, and then another, and challenged us at a distance!





A LAUGHING DOVE looked beautiful: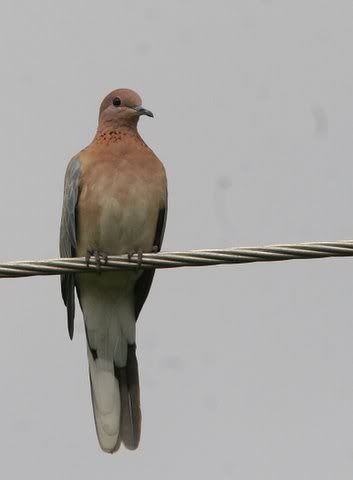 Sometimes when one could not see the colours against the sky, the silhouettes looked lovely, too:





We saw this female BLUE ROCK THRUSH in the far distance; it's clear why it's called a rock thrush!




It was amazing to watch this bird zip and zoom amongst the rocks, with its wings hardly open....like a missile!






You can see its tiny size vis-a-vis the rocks in this far-from-good-and-good-from-far shot: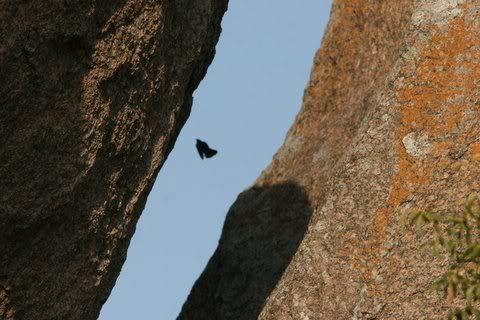 The LONG-BILLED VULTURES were also there; some on the sheet rock, which we did not approach closely because it was nesting territory:






Later we found them soaring overhead: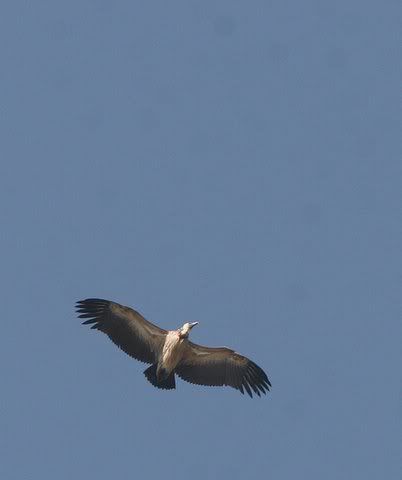 Ashwini also got an excellent shot of the SPOTTED BABBLER, but I didn't. But then we got to see the bird we were really looking for. The first time I had been there, I thought it was the "White Eebee", but realized that the other birders were talking about the YTB, an acronym for the YELLOW-THROATED BULBUL...beautiful birds, two of them here indulging in the Synchronized Head-Turning Event:






On Sunday, I went with Avantika, Bharat,Geetanjali, Pratima, Subir and Vijay to Ragihalli, and...





There they all are, we are having chai and biscuits at Ragihalli village!


We saw the WHITE-BREASTED KINGFISHER and its flash of blue: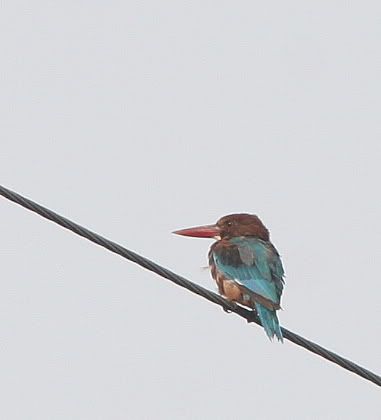 The SMALL GREEN BEE-EATER which looked as beautiful as ever:







The SMALL MINIVETS gave us a signal lesson in camouflage. When one sees these birds in the book, one wonders if they would not be too conspicuous; but when one sees them in their habitat, one realizes how beautifully they blend in!





We watched some more BAYA WEAVERS like at Mysore, making their beautiful nests: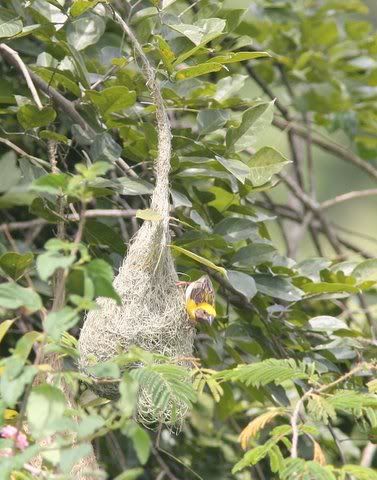 One Baya decided to give us..and itself..an especial treat:






It did a nice yoga pose while dispatching the grasshopper: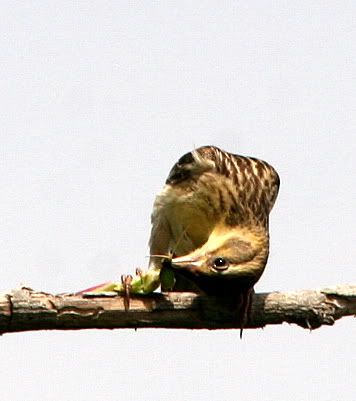 Earlier, we had seen both the female INDIAN ROBIN





and her spouse (I think..maybe he was her brother, too...who knows?)




Twice, we sighted the SHORT-TOED SNAKE EAGLE, once as it flew near us on the sheet rock and then soared above,






And later, at a great distance across the Ragihalli village pond, landing on a tree: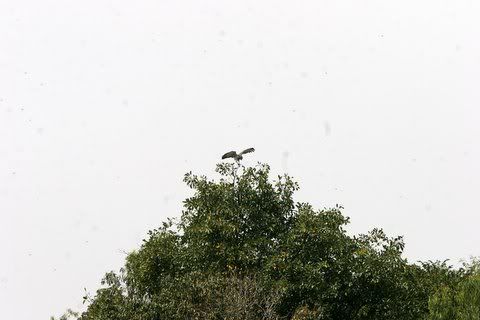 I got a chance to record its habitat: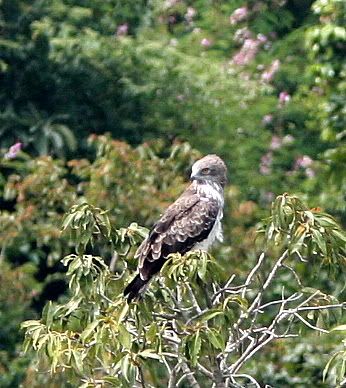 Hope you enjoyed all that as much as I did...you certainly don't get 3 days to do it in!