Kasturi Akka of Dodda Mane, Agumbe, on 041008e gave me this recipe for the kashAya that they served us (and delicious it was, too!)with 23 ingredients:

Some of the ingredients are still unknown to me; I will be going to the herbs/spices shop and seeing for myself what they are. Before I make this powder, I will be photographing all the separate ingredients.




Kothamalli (coriander seeds) 2 pAv (a pAv is about a quarter kg, perhaps 200g.)

Bagly shappu (Saunf, anise) 1 fistful

neggina muLLu 1 fistful

gasagasa 1 fistful

Jeera 1 tbsp

pepper 1 tbsp

methi (fenugreek) 1 tbsp

vAy vilinga 1 tbsp

black jeera 1 tsp

bitter jeera 1 pinch

arisina (turmeric) 1 tsp

jEsthamadhu 2" X 4 pcs

ashwagandha 2" X 8 pcs

shunti (dried ginger) 2" X 4 pcs (Crush jEshtamadhu, ashwagandha and shunti separately first)

chekke (dalchini ..lavangapattai in Tamizh) 2 X 2" pcs

lavanga (cloves) 15

elakki (cardamom) 15

hipli (thippili in Tamizh) 15

bajE 1 small pc

jaikkAi (nutmeg, jAthikkAi in Tamizh) 1 small dry fruit

thuLasi kadi (bark of thulasi plant) 1 pc

OmA (Omam in Tamizh) 1 tsp

amruthavalli 1 pc

bellA (jaggery...vellam in Tamizh) two "rounds" or balls as they are available

(All these items can be asked for in a "granthigE" shop)

All these items must be crushed and powdered.

Boil 1 litre of water and add the powder as desired to it, and serve.



I was in a hurry to get this recipe down on paper; now I have to do the research to find out the names of the ingredients!


Here's the photograph of the kashAya as it was served to us: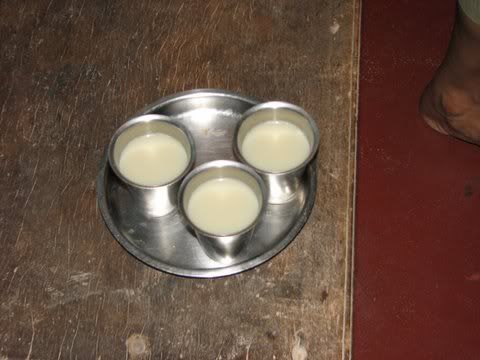 It's supposed to be excellent for health (as one can see from this picture of a smiling Kasturi Akka AND her mother)...but it's certainly excellent on the palate!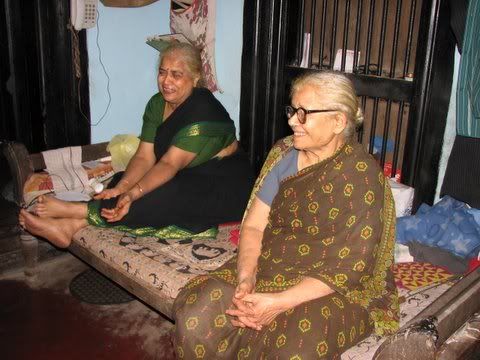 Lovely to be in touch with such things....