Yesterday,I wanted to see the fireworks at the Gateway Arch, but knew that Biddles would not like the noise, so DnA told me that there was a vantage spot at the top of the steps of Washington U. So we decided to have Chinese food and then go there. Some friends also joined us.

The Chinese restaurant was closed, with a big sign that said, "We are closed on Saturday the 4th of July". So what happened to them on Friday, July 3rd?

We then decided to buy subs at the nearby Subway. I think the owner had gone on a picnic with the Chinese restaurant owner (maybe they went to Mc Donald's!)...closed.

So...we bought Mexican takeaway, and went to the Washington University Building, and sat on the steps, and chatted ...and realized that the fireworks location had been moved slightly...hence the fireworks were out of sight behind a large stand of trees!


Here we are, at the Wash U building: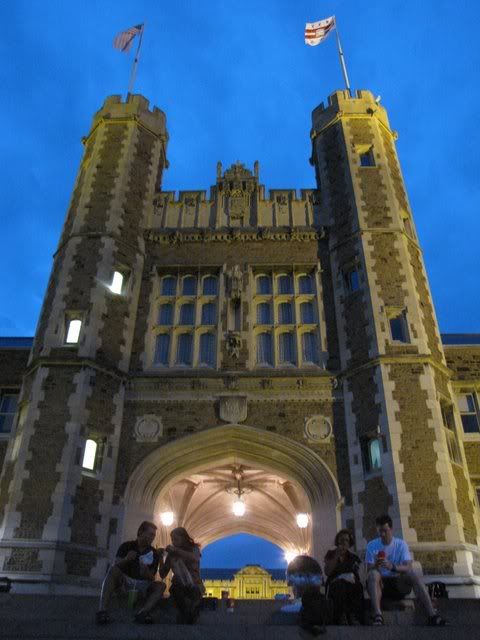 D showed me that by going to the right-hand side of the courtyard and standing on a bench, I could sort of peek at some of the fireworks that were going off higher in the sky...but by this time, mosquitoes were biting, it was beginning to drizzle, and we decided to go home.

Well, at least the evening was fun, listening to the story of how these friends met and finally married...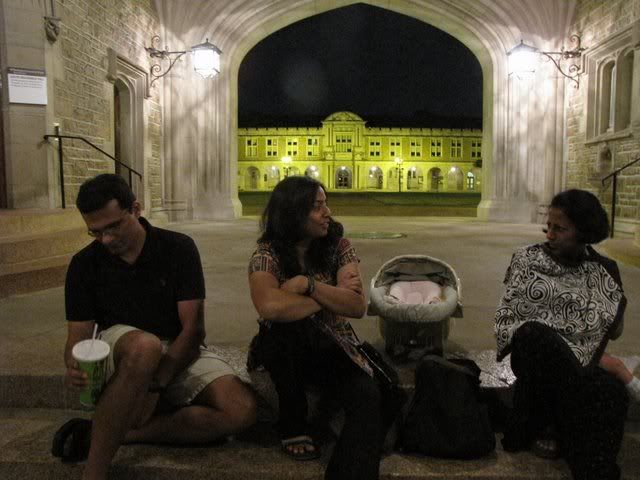 While we were there, a police sergeant,Kim Chaitman, came over as they had received an alarm from one of the locked doors near us; she decided to talk to the most suspicious character around:





This morning, we were supposed to go to Creve Coeur Lake so that the runners' group could run, and then DnA would drop me off near Union Station to go watch the Veiled Prophets Parade at the Gateway Arch.

Hah.

I woke up to the sound of rain at 4.30 am, and it's been raining hard..and steadily. The run got cancelled. Now, I am thinking if it's worth it for me to go to the Metro Station and take a train to Union Station, and go to the parade or not....if it's raining like this.

Well, it's funny that it is, quite literally, raining on my parade! :)


OK, I am off to check how hard it's raining, and perhaps I'll go after all..or check if some local channel is covering the parade, as they do in India...!

Happy Independence Day, all my American LJ friends!