It's very enjoyable to see a lot of art and sculpture as I walk around (before or after Forest Park, I walk around the University City area.)

In fact, just ten minutes' walk from home brings me to Delmar Station, where this sculpture was installed day before yesterday:





It doesn't seem to have a title...I am calling it the "Popcorn Tub Aggregation"!



The Lions of University City are celebrating their hundredth year, and some artists have been asked to depict life-size papier maiche statues of lions in their own way. Here's one, at the beginning of the Delmar Loop:





And here's the title, and the name of the artist:




Another one, I think, is very witty indeed. This one is in front of the University City Library that I go to...this lion is made up of newsprint!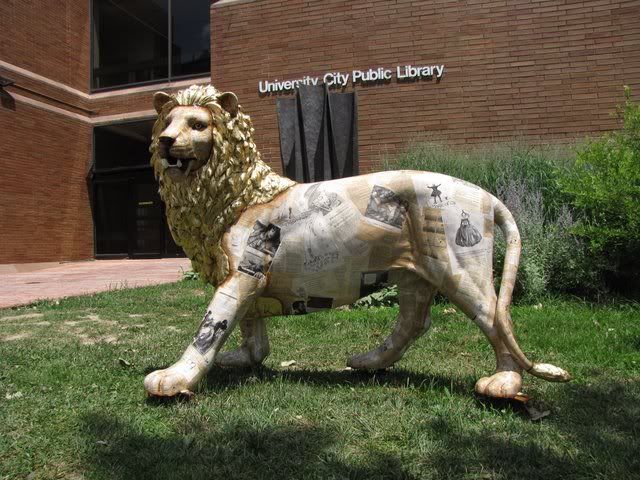 And the title is very witty, too..."Reading Between The Lions"!





Unfortunately, some sculptures and their titles don't seem to match up. Remember the papier maiche sculpture of the nude woman sitting and having coffee , that's in front of a coffee shop? The title is:




How can "sitting" and "reclining" be the same thing?