The Muny

(which is how the Municipal Theatre Association of St Louis--the word "theatre" is spelt that way, not as "theater", on the home page-- is referred to)

has been a great place to go to, and I have watched three musicals there already...



42nd Street

which was KM and my wedding anniversary treat to ourselves,

Meet Me in St Louis

which I went to by myself, and

Godspell

I certainly enjoyed the first two far more than the third, and here's a beautiful scene from "Meet Me in St Louis", where the trolley that used to run in this city was featured on stage:





Every performance has an "opener" at three locations around the main theatre:

Lichtenstein Plaza

Bank of America Pavilion

May Plaza Bandstand

and here are the Muny children dancing at one such event: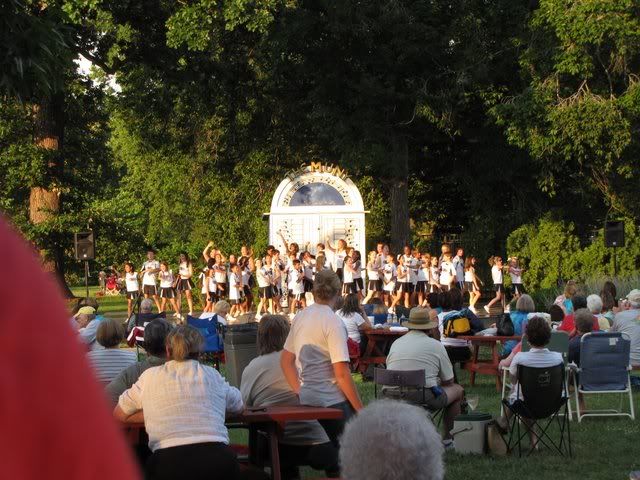 Here's the final scene from "Godspell":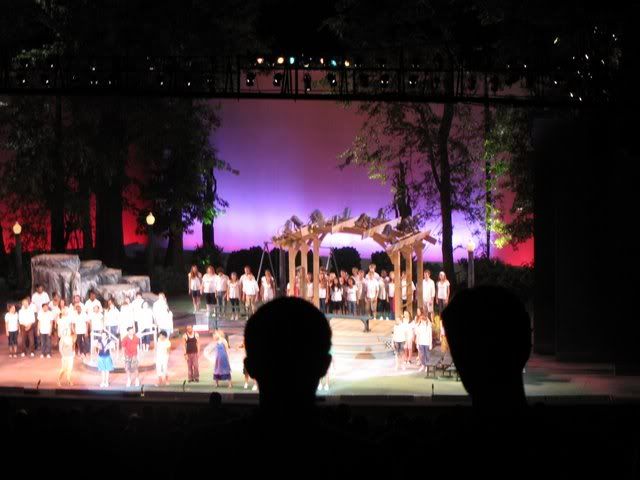 The evening sun shines directy into the eyes of the audience, and many people use their parasols!






But by far the best thing about the Muny is the great people I have met there! The first one I got into conversation with (until then, I was rather hesitant to talk to people!) was Dawn Kimberling. She's grown up here, and is a very interesting person indeed, and she actually lent me her cellphone that first evening so I could call DnA when the show finished (I walk to the Muny, but don't feel too safe walking back at 11pm.)

We got along SO well that we started exchanging phone calls, and last Wednesday, it was her birthday so she came along with her sister, brother-in-law, some neighbours, and her beautiful daughter, Andrea, and I met her there, and I brought them home for some post-show ice-cream. Here are mother and daughter flanking me at the Muny: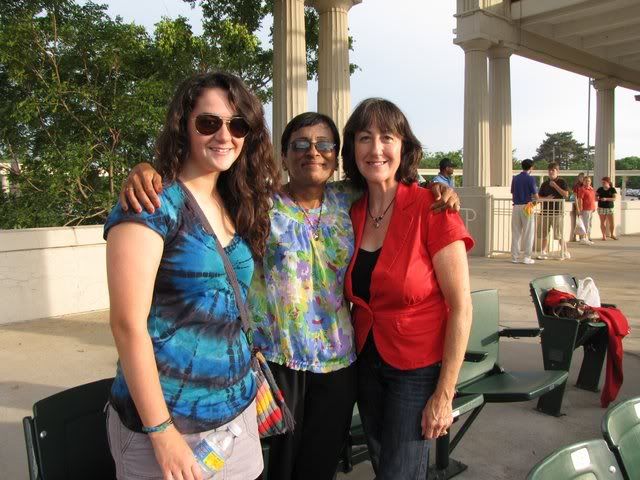 Since I wanted to let her have some time with her family, I then struck up a conversation (beginning with that most common complaint of all time, "It's so HOT!", with four other ladies, Jonique, Sue, Jackie and Lisa. Jonique is a pastor at the

Green Park Church

and I was joking about her not wanting to see my sins, and being able to give herself confession and absolution for hers! She invited me for the service today, and said that Lisa would be singing...(Sunday) but I wasn't able to go.

Sue Lesher runs

Lesher Flowers , a florist's shop, and the other two work there, too...well, these ladies were like flowers themselves! We were laughing and joking comfortably in no time. Jonique went off before I could whip out MLC2, but here are Sue,Jackie, and Lisa: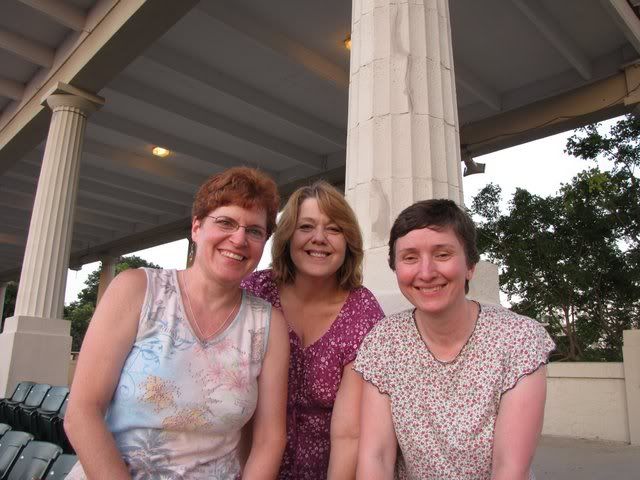 After the show, Dawn dropped me home in her car, and Andrea, she, DnA and I had a long chat about vegetarianism (Dawn and Andrea are both vegetarians), religion, and people's perceptions. I found them both very open-minded people, and Andrea is going to college in the fall, but meanwhile, she will be the assistant director for a young pro theatre group who are going to stage

Art

Which I have seen before at Ranga Shankara and reviewed

on Metblogs

We wound up chatting tiil beyond midnight, and the two of them had to drive back the long distance to their home so very late! (As KM joked later, "Oh, you kept Dawn till dawn?")

Yesterday, Dawn and Andrea picked me up to take me to the

Missouri Botanical Garden

but we wound up going to the Zoo instead, and though it was TERRIBLY crowded, it was still gret fun to spend time with Dawn and her daughter! (More about the Zoo and my time today at Forest Park later...)

I am really looking forward to visiting the Muny for (at least)

Camelot

and

Hairspray , my ND (Nanny Duties) permitting!




There's also so much music to listen to, over here. Today I wanted to go for

Mozart and Beethoven at Washington U

...but Eli/Biddles decided I was going to keep her company! ND takes precedence over all else...