She's known to us as ...simply...Dadda...which was my sister-in-law's childish way of saying "dAdi mA" (paternal grandmother).

She's approximately 90 years old; I'm not sure she knows when, exactly, her birthday is. She's as spry and perky as a sparrow. She still makes most of her meals herself; she was married to a freedom fighter, who won the tAmra patrA for his struggles, and still earns a freedom fighter's pension herself.

She's a repository of wisdom, tales of long ago, stories of her family, and is a superb cook.

She keeps up her pooja-pAth (rituals of worship) but accepts me as I am....and though she is rigid in her own discipline, she's incredibly modern in some of her views...when her grand-daughter wanted to marry a south Indian, and the relatives were against it, she said that her husband had fought for Indian independence, not north Indian independence!

She'll be travelling by train tonight, on her freedom fighter's pass... to Kanpur, Lucknow, and then to Haridwar, where she lives in an ashram, where, every day, she can see her beloved "gangA ji"...Mother Ganges.


Here she is, with our maid, Chitra, braiding her hair...which is snow-white, long, and curly as a baby's!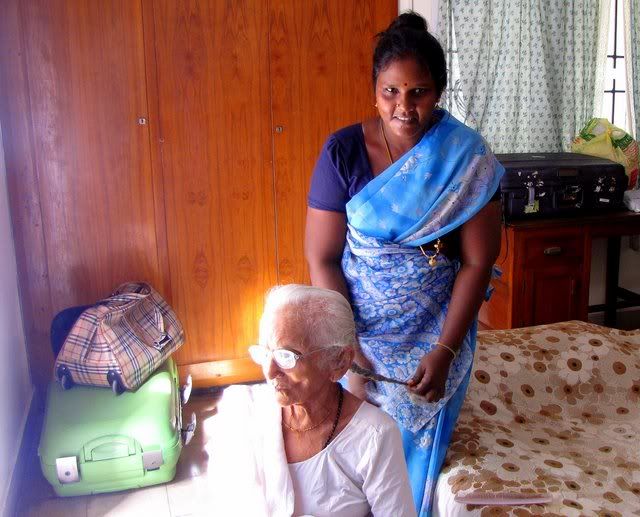 She's so affectionate...she travelled all the way from Haridwar, just to attend my daughter's wedding, and took a star part in the festivities....

Dadda...a dearly beloved lady.