Whether moving or stationary, some things have the power to bring my trusted MLC out to record them....instead of just me enjoying these things, I can share them with others, too.

Here's a sign on the back of a bus:





This bus from Chennai is going to bypass every town, except Maduravoyal on its way to Kanchipuram. This reminded me of the occasion when, in Madurai, my then-eight-year-old daughter saw the sign for "Byepass Road". Her father had had a heart attack a year or so ago, and with the knowledge born of experience, she asked, "Where is Angiogram Road?"

Don't miss Vishnu under the umbrella of AdisEshA, the divine serpent, on the bus on the left!


Another mini van in front of me had "thakkALi" and "gObi" (tomato and cauliflower), written on its back: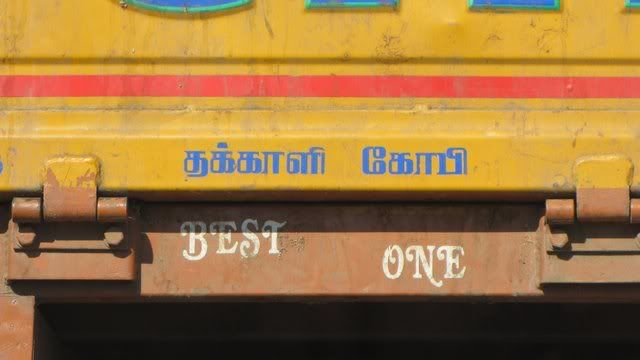 But pride also demanded a statement that it was the best one :)

I wanted to document the typical tea-shops of Tamil Nadu (Karnataka tea-shops look different...I don't know why!)





The tea-shop is distinguished by that copper boiler (with the flower garland around it) , which keeps the water (or the milk kept within) piping hot. I like that cycle, which so many people still routinely use as a method of transport....there is a tin-sheet construction to keep the flame going well, several posters of magazines (and sometimes political news) hang from the counter, and there is a plethora of pre-packaged snacks inside..the red stacked containers are for "cool drinks" as they are called here, and on the left-hand side, you can see someone making Ceylon parAthAs.


We like to publicize our weddings to one and all. Here's a poster at the side of the highway, with photographs of the bride and groom, and giving details of the wedding:





I suppose the other pictures on the poster are those of relatives...I am still wondering how they took a photograph of the bridal couple when the wedding was only on the day we passed, and usually, bride and groom are not allowed to stand together like that before they are married!

Perhaps this will tell you why I love road trips in my country; there's always so much to observe!