Chandu, having been looking at the lovely village of Makalidurg (mAkaLidurgA) from the train on his way to and from Hyderabad, decided that it would be a likely spot for Nature/birding trip, and Anil, Prashant, Vittal and I (all from the NTP group) enthusiastically joined him, and off we went, early on a very misty, chilly morning!
One of the loveliest sights, which Chandu told me to capture, was of the Lantana flowers,everywhere, drenched in the morning mist:
The fog was so dense that Anil had difficulty seeing the road ahead. Here's an almost-impressionistic view of Jain monks walking (on pilgrimage), taken through the windshield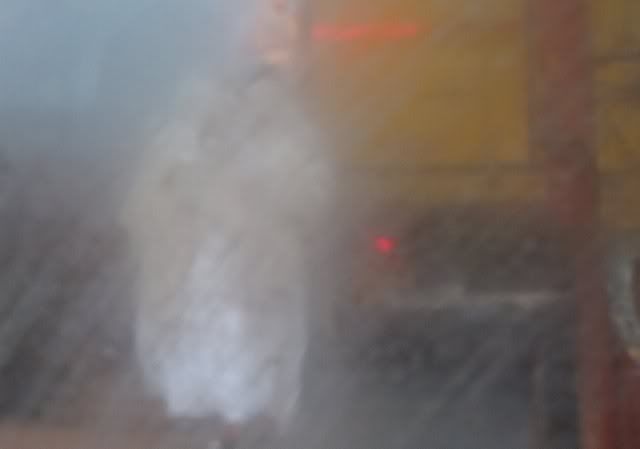 Here are the others, returning to the car after an excellent breakfast at "Ayyappa Tiffen Centre" (more about people in places in the next post!)
Here's what the scenery looked like in the dense mist: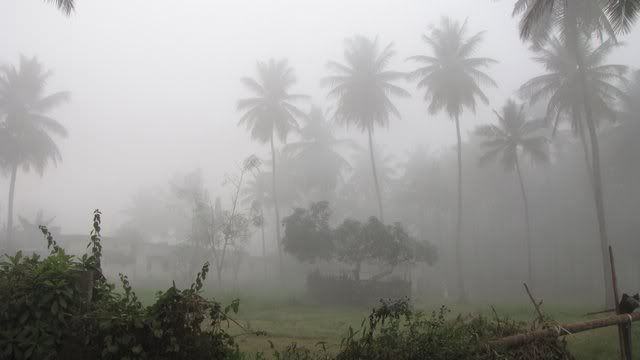 Incredibly, though, as we took the road up, at one point...within a minute, we were out of the mist into bright blue skies and brilliant sunlight!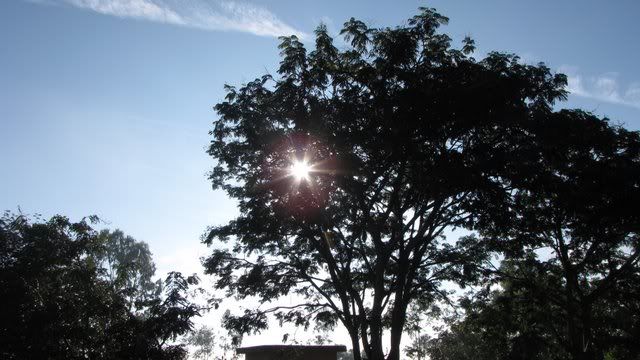 We stopped to photograph, and admire, the spider webs sparkling with the dew:
This web of the
TENT SPIDER
was also beautiful: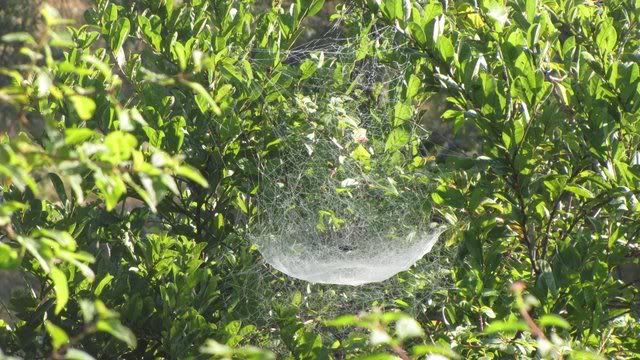 we watched one Orb Spider busy at work:
Update, Vittal says this is the Kidney Garden Spider, named because of the kidney-shaped marking on its back (not because it is found in kidney gardens...) Araneus mitificus
a
RED-VENTED BULBUL
ate from the Acacia tree: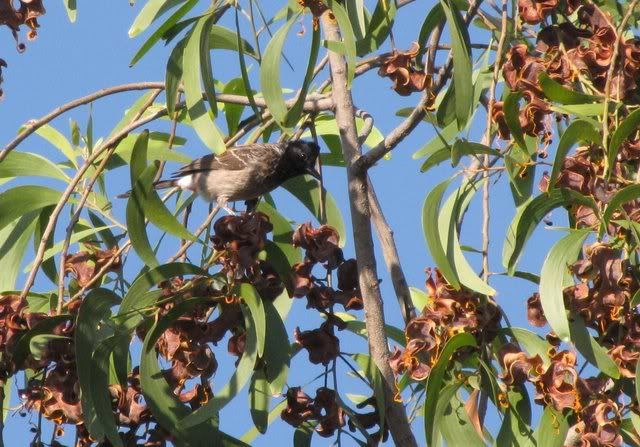 We reached a large water body, and surprisingly, we did not see any ducks or waterbirds, apart from the usual Herons and Egrets; not even a glimpse of any kind of kingfisher! We were speculating about why this should be so...perhaps the experts can explain. However, for a long time, we watched the Barn Swallows swooping up and down in the air, and large group of
SILVERBILLS :
There were several butterflies around, and I got this
WHITE ORANGE-TIP:
From the car, we spotted a
INDIAN BUSHLARK
right next to us, and we watched with glee as the bird took a dust-bath!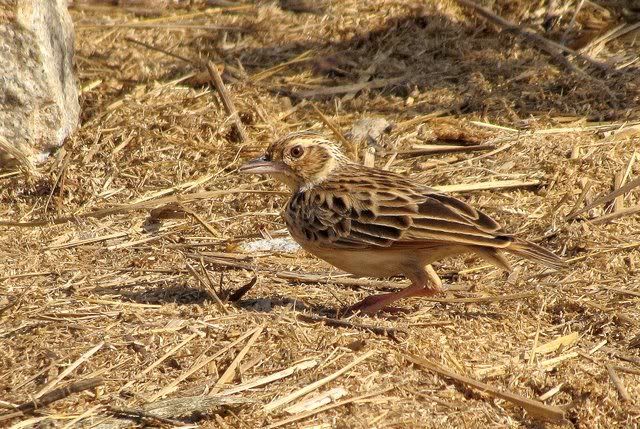 We then decided to go the Station area, but alas, a nail got in the way of the tyre of the Tata Safari.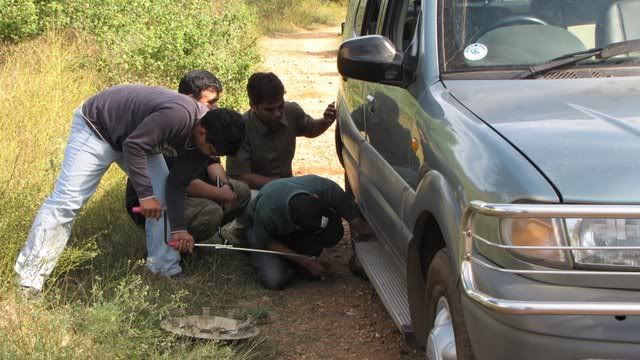 Of couse, I let the four men handle this dirty, dusty puncture-repairjob, and I swanned off to see the pretty, picture-postcard little station.
Just behind the station, at a large well, a group of
HOUSE SPARROWS
were flying around perkily: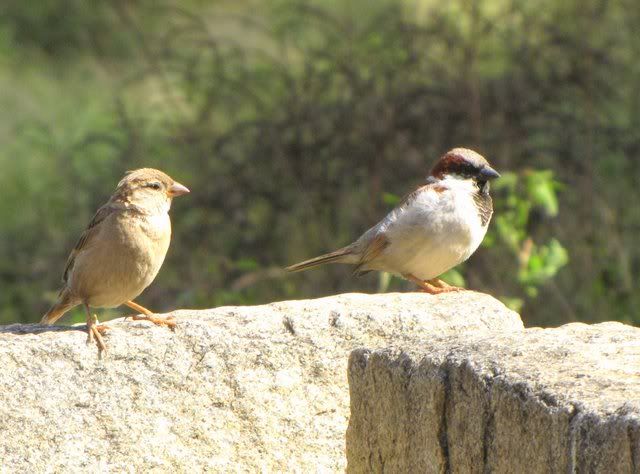 We saw the standard-now-for-every-birding-trip
ORIENTAL HONEY BUZZARD:
and I got a shot of a distant
KESTREL: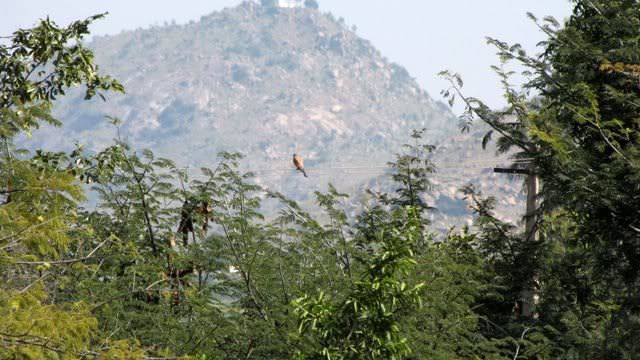 then I watched a herd of
BONNET MACAQUES
rushing down the slope:
After they were done with the puncture, out came the others' cameras, and we captured this
DAY-FLYING HANDMAIDEN MOTH: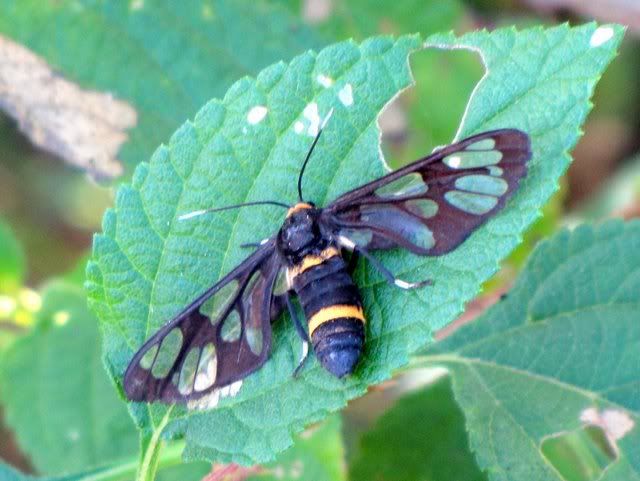 We were also occupied for a long time with a large group of
PURPLE and PURPLE-RUMPED SUNBIRDS
in a bushy area, and then crossed the tracks and came upon a temple, where I spent quite half an hour watching a group of
CARPENTER BEES
flying in and out of the holes they'd made in a large wooden beam of the temple:
Look at the beauty of it!
This bee kept still, long enough for me to get a "bee portfolio":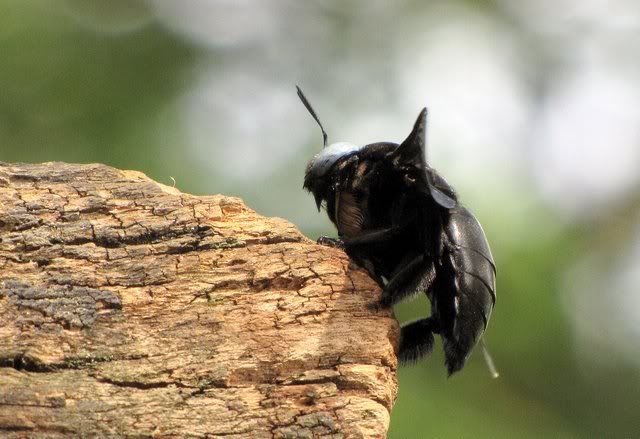 We then went to the Ghati Subramanya temple, and on the road, spotted my favourite beauty,the
BLACK-WINGED KITE;
Here's an
INDIAN ROBIN
pecking at food on a rock:
To see more photographs,
click here
For Prashant's photographs,
click here
The highlights of the trip, sightings-wise, were:
The large flock of Barn Swallows and Silverbills
The bushes full of Sunbirds
The Bushlark taking a mud-bath
The Sirkeer Malkoha jumping around, strutting on the ground and despatching its prey
The Shikra couple flying together.
The Kestrel eating its prey in mid-air.
The Carpenter Bees and their nests.
The family of Quails suddenly crossing in front of our car, in such a busy-busy, comical hurry to get somewhere!
Here's the bird and butterfly list:
Bee-eater, Small Green
Bulbul, Red-vented
Bulbul, White-cheeked
Bulbul, Coppersmith
Buschat, Pied
Bushlark, Indian
Buzzard, Oriental honey
Crow, Jungle
Crow, Common
Coucal,Greater
Dove, Laughing
Drongo, Black
Egret, Cattle(G)
Flowerpecker, Tickells
Francolin,Grey
Egret, Little
Heron, Pond
Kingfisher, White-breasted(G)
Kite, Black
Kite, Black-winged (G)
Kestrel, Common
Lapwing, Red-wattled
Lark, Ashycrowned Sparrow
Malkoha, Blue-faced
Malkoha, Sirkeer
Munia, Scaly breasted
Myna, Common
Myna, Jungle
Quail (?)
Parakeet, Rose-ringed
Robin, Indian
Roller, Indian
Shikra
Silverbill
Sparrow, House
Sunbird, Purple
Sunbird, Purple-rumped
Swallow, Barn
Tailorbird.Common
Wagtail, Whitebrowed
Warbler, Blyth's Reed
Butterflies:
Blues, various kinds
Cerulean, Common
Coster,Tawny
Crow, Common
Emigrant, Commmon
Four-ring, Common
Jezebel,Common
Leopard, Common
Psyche
Rose, Common
Rose, Crimson
Tiger, Blue
Tiger, Common
Tiger, Glassy
Wanderer, Common
Yellow, Grass, various kinds
Various grasshoppers and crickets.
Mammals:
Macaques, Bonnet
Mongoose, Stripe-necked
Reptiles:
Keelback, Checkered
Snake, Rat
I'll end this post with another image of that winged jewel: